Ferris Zero Turn Mowers and their suspension
31/07/2023 | Mowerstore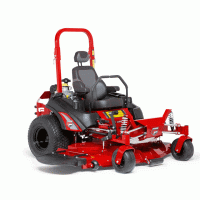 Understanding Ferris Suspension Technology
Ferris Zero Turn Mowers are equipped with what is known as a suspension system that sets them apart from conventional mowers. This system comprises multiple components working in harmony to provide superior ride comfort and stability while mowing uneven or rough terrain.
Independent Suspension: Ferris mowers boast independent suspension on each of their wheels on selected models. Unlike traditional mowers with rigid axles, Ferris mowers use suspension components that allow each wheel to move independently. This means that the wheels can adapt to variations in the terrain, ensuring a smooth and even mowing experience.

Patented IS® Suspension System: Ferris takes suspension technology to the next level with its patented IS® (Independent Suspension) system. This feature employs coil-over shocks and pivoting front axles, enabling the front wheels to move independently. The result is a ride that feels more like gliding over the lawn rather than enduring the jolts and bumps typical of standard mowers.

Increased Traction and Stability: The suspension system not only enhances comfort but also provides increased traction and stability. By allowing the wheels to maintain better contact with the ground, Ferris mowers can handle challenging terrain, slopes, and obstacles with ease and without compromising the quality of the cut.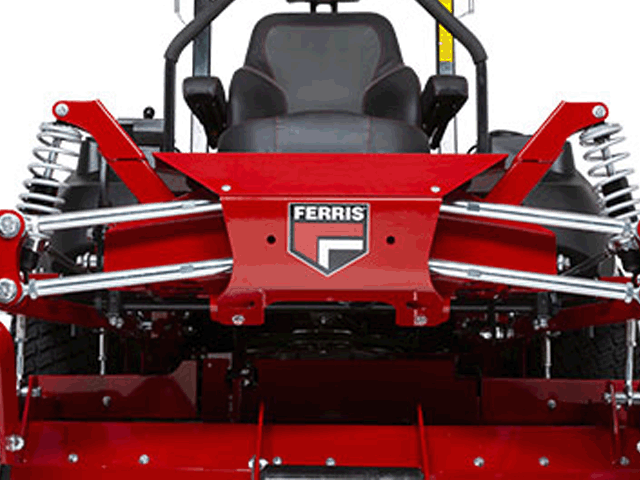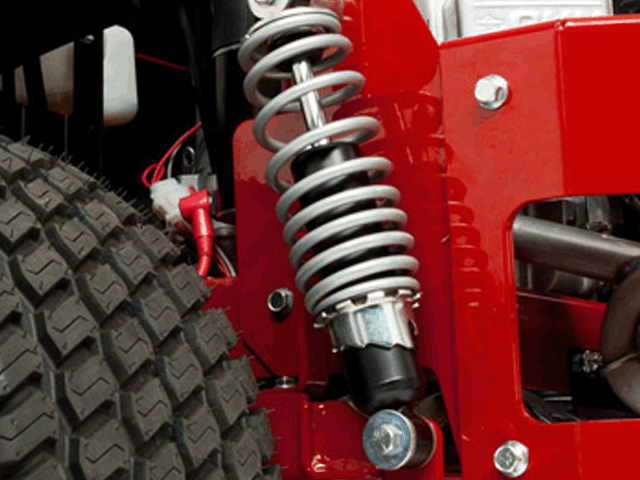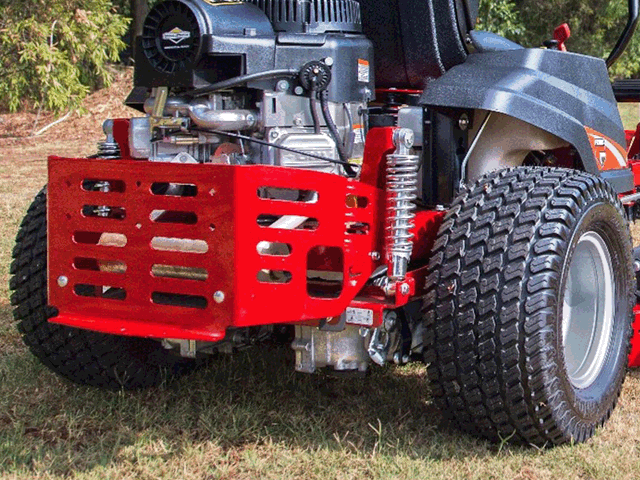 The Advantages of Ferris Suspension Technology
Unmatched Operator Comfort: Perhaps the most noticeable advantage of Ferris suspension technology is the incredible operator comfort it delivers. By reducing the impact of vibrations and bumps, the mower's suspension minimises operator fatigue and allows for extended mowing sessions without discomfort.

Reduced Turf Damage: The independent suspension system ensures that the wheels adapt to the contours of the terrain. This feature significantly reduces turf damage, making Ferris mowers an excellent choice for maintaining the health and appearance of the lawn.

Consistent Cut Quality: Uneven terrain can lead to an inconsistent cut with traditional mowers. Ferris suspension technology counteracts this problem by providing a stable platform for the cutting deck, resulting in a more uniform and precise cut across the entire lawn.

Enhanced Productivity: A more comfortable and stable ride means less time and energy spent manoeuvring the mower. The increased productivity allows users to complete lawn care tasks more efficiently and tackle larger properties with ease.

Durability and Longevity: Ferris mowers are built with durability in mind, and their suspension systems are no exception. By absorbing shock and reducing stress on critical components, the suspension technology contributes to the mower's overall longevity and reliability.



Conclusion
Ferris Zero Turn Mowers have made a significant impact in the lawn care industry, and their suspension technology is a crucial aspect of their success. By prioritising operator comfort, reduced turf damage, consistent cut quality, enhanced productivity, and overall durability, Ferris mowers have set a new standard for precision lawn care.
Homeowners and professionals seeking a high-performance mower that can handle challenging terrain and provide a comfortable mowing experience should look no further than Ferris Zero Turn Mowers. As the technology continues to evolve, it is evident that Ferris remains committed to pushing the boundaries of innovation, redefining the art of lawn care with each new advancement in suspension properties.